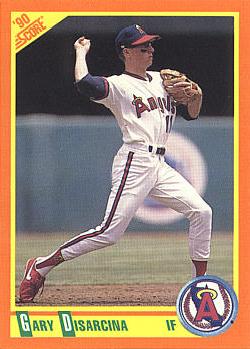 Boston Red Sox Press Release.

BOSTON -- The Red Sox today announced the appointment of Gary DiSarcina as the manager of the Single-A Lowell Spinners of the New York Penn League for the 2007 season.

The announcement was made by Director of Player Development Mike Hazen.

DiSarcina, who will be making his professional managing debut, was hired by the Red Sox as Baseball Operations Consultant in November. In that role, the former Angels shortstop assists Executive Vice President/General Manager Theo Epstein and the baseball operations department in the areas of major league transactions, professional and amateur player evaluation, and minor league instruction.

Jon Deeble, who was originally announced in January as Lowell's 2007 manager, will continue to concentrate exclusively on his role as Boston's Pacific Rim Scouting Coordinator.

"Gary DiSarcina has been a real asset to the Red Sox since joining the organization last fall, and we feel he will be a good fit with the Lowell Spinners," commented Hazen. "With the major emphasis that the Red Sox place on international scouting, the decision was made to continue to allow Jon Deeble to concentrate in the Pacific Rim operation on a full-time basis."

A native of Billerica, MA, DiSarcina had a career .258 batting average in 1086 games with the California/Anaheim Angels from 1989-2000. He was a two-time team MVP and a 1995 American League All-Star.

Since retiring as an active player, he has operated the DiSarcina Baseball Academy in Billerica and served as an analyst on NESN's pre and post-game Red Sox coverage prior to joining the Boston organization. DiSarcina was also on the coaching staff for Team Italy in the 2006 World Baseball Classic.

DiSarcina will continue in his role as Baseball Operations Consultant prior to the opening of the 76-game New York Penn League season in June. Lowell opens its 2007 season by hosting Oneonta on Tuesday, June 19 at LeLacheur Park.