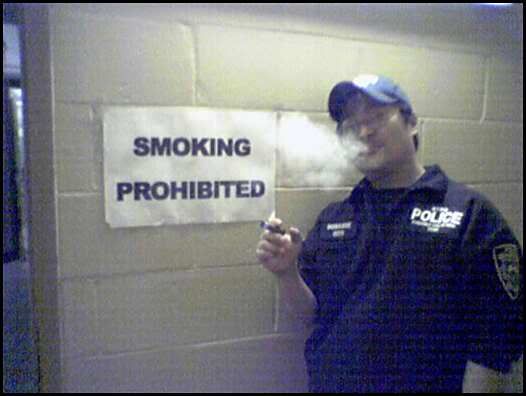 (

MikeD

)

(Your Humble "Smoking Lounge" Host. . .)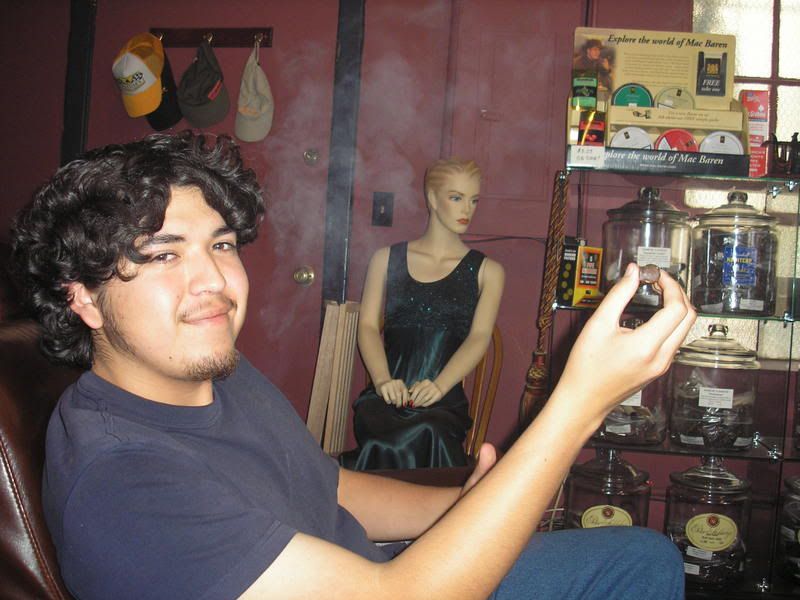 (My Boy,

Jeebus

, Of "The

Beaner

Blog"!)
I know I spend a lot of time talking about
StogieChat

.com
here on my blog, but I think it is quite the microcosm of something that is a very important part of the Cigar Enthusiast Culture (and frankly, something I put in my "Mission Statement" at the top of this BLOG, a driving force in why I created it). Cigar Enthusiasm is not just about smoking. It is also about
camaraderie
among people sharing a common love. It really has been amazing to me how many people of different races, ages, locations, religions, and political bents, will happily and willingly come together for great (and remarkably civilized) conversation, and companionship over a beverage and a fine cigar. We have been known to, quite
unironically
, call each other "Brothers Of The Leaf" (
BOTL
, in net-
ese
) , and really mean it. I have been in several social situations involving cigars,and have
always
found it easy to relate to the others there, as if I had known them forever. As previously professed, Smoking Lounges are some of the coolest, friendliest places on earth.
One of the coolest things to pop up in the 21st century has been the
seem less
transition of this
camaraderie
into the online world. Even before the advent of BLOGS, and other Web 2.0 applications, when the
Internet
was still a largely solitary experience, he was a burgeoning and vibrant Cigar Lovers community online. While I can not vouch for certainty beyond the one message board I frequent, it seems to me there are many other places where the same sense of community has evolved. And at
StogieChat
, that community really exists. In many situations, members have never met for a smoke with people outside their immediate locale, but through SC, I feel like I can always have a cigar and good conversation with a good friend and fellow enthusiast, whether they be in NYC, Georgia, Florida, LA, Minnesota, Scotland, or any number of places dotting the map. Also, I know many of them, like friends local to me, would do everything they could to help me, if I was in a bad spot. (A quick example: there was a long stretch between December 04 and late '06 I went back to school at Ohio State, and had very little money to devote to my hobby. But, through the unending generosity of members of SC.com, many whom I have never met in person, I did not once go without cigars. On top of that, not one ever expected one bit of compensation in return. Amazing!).
I have a specific example on how this community can be fostered online. In
September
of 2003, I was given a cigar by a friend, and after discovering that this was not a horrible hobby to have (prior to this, I was an Anti-Smoking freak, obviously I have since seen the error of my ways!). I was searching for information and happened to stumble across
StogieChat
.com. Far from the vibrant, multifaceted community we have today, SC at the time was a small tight knit group of abut a dozen or so guys who loved cigars and bullshitting on their little message board. They were immediately welcoming (finding out that I had a little knowledge of Bourbon Whiskey, another hobby of mine, the Admin made me an honorary Moderator of their spirits forum like a week after I joined the forum). One member in particular,
MikeD
, went out of his way to be
accommodating
. Through the forum, and through instant messaging as well as phone conversations (we both worked similar second shift hours, albeit in very different jobs: Me as a grocery
stocker
in
Ohio
, him as a cop in Brooklyn), he helped answer my endless stream of questions regarding everything that had to do with this hobby, from cigar storage, to how to combat mold, to size and shape and country of origin of cigars, food and drink pairings, anything. If it wasn't for him, I probably would have given up on cigar long ago, and missed out on so much. He kept my interest by not only suggesting things to try, but also (partially because of my rural location, with no
stogie
shop nearby) sending me samples of many a cigar to actually try. And about 99% of the time, his suggestions were dead on. I liken the experience to a Buddhist monk going to his spiritual leader for lessons (we joked, likening to Star Wars Lore: That he was the "Cigar Jedi Master", and I was a little "
Padawan
Learner",
haha
). A lot of why I feel qualified to review cigars on this blog can be owed to what I learned through conversations with him.
And the great thing about all this, is the cycle is repeating. Recently a younger member,
Jeebus
, from California, Joined the forum (and yes, to anybody who has stumbled across it, it is the very same
Jeebus
of "
The

Beaner

Blog
" fame). And while it hasn't been as comprehensive as my situation with
MikeD
, I have kind of taken him under my wing a bit, trying to guide him through the beginnings of his journey into premium handmade cigars. I have even recently sent him the first package of cigars that I want his opinion of, much like Mikey once did for me. The three of us, to bring it all together, have a conference
together
about twice a week via
IM
to discuss cigars, and life. And the community grows and prospers.
Jeebus
even posts cigar reviews on his blog.
Youcan
tell (though I wish they were a bit longer), that hes improving, learning to appreciate more and more of each
stogie
set to flame.
But this, in a nutshell, is why I love Cigar Enthusiasts so much, hope you enjoyed reading about them.
TomC